Your loved one's best interests matter most.
A compassionate, unified team provides the kind of high-quality care your loved one needs to be safe and comfortable in their own home.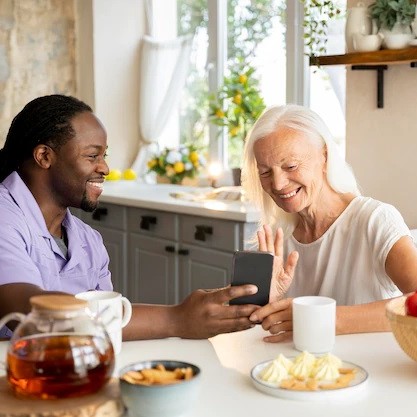 It starts with our schedulers finding the best personality match between the patient and aide to build a strong relationship. An Allwel aide can visit your loved one for companionship and safety or provide a more hands-on personal care plan developed by a registered nurse (RN) in conjunction with the patient's doctor.
Constant communication between all members of a patient's care team and family is essential – aides, schedulers, home care nurses, social workers, you, and your doctor all work together to keep your loved one safe, happy, and comfortable. After providing care for your loved one, your home care aide will share daily notes with our RN for any noticeable changes in health status or behavior. Plans are flexible and can change as your loved one's needs, preferences, or health changes.