Traumatic Brain Injury Care
Expert care is essential.
Allwel was one of the first agencies to provide specialized services for people with traumatic brain injury in Western New York opening in August 2000.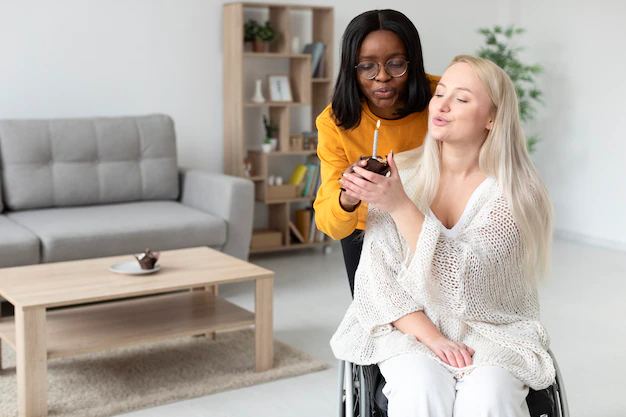 Since 2000, we have worked with many of the challenges of memory loss, physical challenges, and impulsive behaviors associated with Traumatic Brain Injury (TBI). Our team members receive specialized training to understand what each person may be facing and use patience and instruction to help them achieve their goals of remaining as independent as possible. Care for people with TBI is about patience and understanding; no two TBIs are the same, and each person has his or her own challenges to wrestle with.
Allwel's team of case managers, nurses, and social workers provide a complete approach to caring for the physical, cognitive, and emotional needs. We provide case management, behavioral interventions, counseling, and independent skills training depending on the needs of the individual and the severity of their brain injury. Our team also provides help with time sensitive and financial responsibilities that are associated with remaining at home. Examples include the taking of medications, shopping, the paying of bills, the scheduling of and getting to important appointments, or simply getting out into the community for visiting and social activities.
About the TBI Waiver Program
The Home and Community-Based Services Medicaid Waiver for Individuals with Traumatic Brain Injury (HCBS/TBI) was developed by the New York State Department of Health to allow persons with a traumatic brain injury to receive services in community settings rather than institutional settings. For the WNY Regional Resource Development Center, please call 716-408-3120 to begin this process.
Sometimes a hospital stay transitions into short-term rehab. We can help your loved one transition safely home with the care they need. Please call us to discuss how we can meet your loved one's needs.
What to Expect When Caring for Someone with a Traumatic Brain Injury
Traumatic Brain Injury can affect thinking, language, judgment, and behavior. No two injuries are the same, so it is difficult to measure one person's progress against another. When caring for someone with TBI, you might observe that their ability to do certain tasks may come without any issue at home, but may be difficult to generalize into another setting. Caring for persons with TBI requires a lot of trial and error and finding creative and unique solutions that work for that person. For example, some people enjoy a humorous approach. We believe in having a real conversation about what to expect, so let's talk about it, we are here to help.
Always keep in mind that no two days will be the same. Mood and energy level have a lot do with how the day will progress for someone with a brain injury. Patience, flexibility, and creative problem solving are all beneficial approaches to best supporting someone with cognitive, physical, emotional, and behavioral struggles.
There are many services that are offered in the Traumatic Brain Injury Waiver Program, such as: Service Coordination, Independent Living Skills Training, Positive Behavior Intervention and Support, etc. The goal is maximum integration living in the community and as much autonomy as possible for the patient.